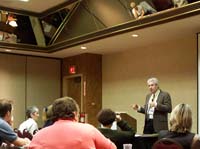 "Teaching and consulting is extremely rewarding", says Stuart Altschuler. "I am humbled by the many nice things that people say about my school and consulting services."

Connie Dale, Dale Photo Imaging Center, Alexandria Virginia
In 2004 our Photo lab, Dale Photo Imaging Center decided to incorporate custom framing into our retail business. It seemed like a natural fit as we do many enlargements, posters, giclee prints and photos to canvas. After taking the class at Prestige Framing Academy, I could see I had selected a quality minded organization who had teamed up with an elegantly manufactured product line, Larsen-Juhl. Stuart Altschuler understands the framing business and his years of experience only enhance his ability to teach and communicate the trade. Stuart truly gets to know his students and gives people the tools and information to be able to communicate to your future customer. Once we got our moulding samples in from Larsen-Juhl, I could hardly wait to get started! As the owner, I had also enrolled one of my employees to take the class and both of us used Stuart as a kind of "1-800-Help Line". He was always patient and helpful on the phone once we were out on our own. This was a reassuring resource knowing that we could call on him to help us solve a framing question. We have also asked Stuart to do a follow-up visit for a day to have him critique our sales ability with the customers as well as brush us up on techniques we learned in class. Stuart believes in building relationships with his clients. He is truly wise about his craft and a genuinely nice person who cares about people.

From an economic standpoint, we have been pleased with our increased revenue that the Larsen-Juhl custom framing line has brought to our bottom line. We have only been in the business of custom framing for about 1 - 1/2 years, but feel confident we are building toward higher profits.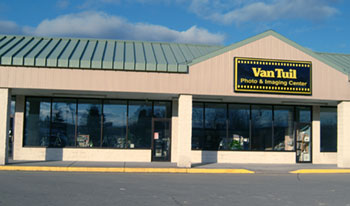 VanTuil Photo

Kurt VanTuil, VanTuil Photo, Meadville and Erie, PA
I started the framing business about 7 months ago. I attended the Basic Framing class at Prestige Framing Academy. That was a great, beneficial experience. At the conclusion of that class, I was skeptical about spending the money for a consultant. Looking back, I can't imagine having started without Stuart's expertise. I remember unpacking the equipment and thinking several times, I'll never use that. I used all of those things in the first 2 months of operation. In addition, I don't remember needing anything, of any significance, that I didn't have. I'm sure that start-up time would have been much longer, more, costly mistakes would have been made, and there would have been a much higher level of frustration had I not hired Stuart. I believe it was a profitable decision.

Nita Casar, Beverly Hills Picture Framing, Inc
Stuart has become my business mentor. He has helped me set up my pricing involving almost every aspect of my business. It is so nice to know that there is a person available to me with such extensive experience in the framing field who I can rely on to be there when I need him.