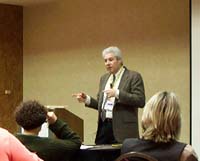 In small groups and large, Altschuler is a dynamic speaker
Stuart M. Altschuler, member National Speakers Association, presents several keynote and breakout sessions.
Keynote Topics:
Improving Your Internet Presence
Survival of the Fittest: Getting Ahead in Today's Small Business Environment
Winning Sales Counter Strategies: Why it's not always about the product
The 100% Surefire Marketing Strategy for All Small Business
"Years later, Stuart Altschuler's presentation is still our best received." -Bob Warshawer, former President, New England Professional Picture Framers Association
Breakout Sessions
Many small business topics described in association classes are available in a standard or personalized version. You may also look at our brochure Classes for Sponsoring Organizations which is loaded with class ideas.
To find out more information or to check availability and fees, call (888)638-5518 or email stuart@frmaingacademy.com