With more hands-on project time than other schools, students learn by doing
A Wide World Of Hands-On Skill Training And Vital Information For Framers
Whether you are just starting out in the business or a seasoned veteran, Prestige Framing Academy, LLC opens the door to a world of information and skills that will enhance your abilities and your framing business. We have carefully designed our course offering to present classes of interest to framers with all levels of experience. Some of our courses are general in nature, covering a wide variety of topics to provide a range of skills. Others are more specific, addressing a single topic in depth. Technique classes involve hands-on learning and are limited in size to provide you with more personal attention. We also offer several lecture-style sessions that are designed to introduce new ideas and concepts to picture framers. These half-day BusinessFocus seminars will present many vital topics throughout the year.
Basic framing education assumes no prior knowledge of picture framing. This week-long class covers cutting and joining, mat cutting, dry mounting, hinging and finishing, and stretching and fitting. We also introduce participants to design and layout techniques, pricing strategies, and preservation practices.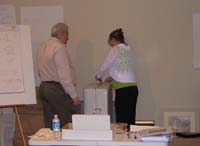 Samples, drawings, notes, and wall sized post-its all contribute to the learning environment

This hands-on class provides the larger frame shop with the ability to train new employees in an environment where they'll concentrate on their education without distraction. We'll help you bring someone up to speed quickly without reducing the productivity of your top peoplethe ones you count on to produce and train at the same timeand without affecting your service level.

For those starting up a new framing business, the need for immediate, high-quality education is critical. We'll involve you with all the technical skills necessary to produce quality results for your new customers, and we'll bring you the benefit of our many years of experience owning and managing a framing business. Through close supervision we will focus on your complete range of responsibilities as a new framing business owner. We'll be there for you after our class is completed, toowith follow-up consultation and through our technical hot line. All course graduates can call our hotlineany time.

Are you an experienced framer? Our intermediate skills workshops will help bring out your best. Whether it's a new skill to add to your arsenal, or a chance to fine tune your abilities-you'll choose from a large selection of intriguing classes. All techniques classes are hands-on, and you'll leave with examples of the techniques learned. Put these to work immediately to enhance sales and delight your customers.

Advanced classes are designed to challenge the experienced framer. We offer the widest variety of advanced framing and related topics of any school in the country. One advanced offering is our annual week-long special projects course. The projects we work on in this class are so special that it's called "Fantasy Frame Camp."™ Nothing is too big, too small, or too bizarre to be framed in this class! We cover other intensive topics such as plastics fabrication and frame restoration in additional one and two-day sessions.

For Business Sake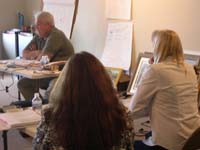 Students listening to basic framing lectures. Small classes allows for more individualized attention. This class photo from a recent Basic class shows happy students

It's not simply about techniques in the shop. To succeed, framing business need additional resourcesto compete for customers, develop unique offerings, manage people, maintain a sound business. Our BusinessFocus seminars will present experts in these fields whose insights will fuel your creativity.

We Support Professional Framers

Prestige Framing Academy is committed to advancing the interests of the custom picture framing industry. We support the standards established by the Professional Picture Framers Association of America (PPFA) for professionalism and sound business practices.

The Certified Picture Framer (CPF®) designation, administered by PPFA, distinguishes framers on your staff with superior commitment and ability. Our course offerings provide framers with sufficient background to prepare for the CPF examination.

Your State of the Art Classroom

In order to enhance your learning experience, we have built an ideal frame shop with up to date tools and equipment.

Your classroom is equipped with a complete range of framing equipment, not just the typical selection of manual machines found in many shops. For example, all of our mat cutting classes include training on a computerized mat cutting system. In addition, you will also be exposed to a computerized point of sale system. Work orders can be processed by this system so that each student becomes familiar with its operation. Our ample classroom space gives each student the opportunity to get supervided hands-on training.